Institut für Marine Biotechnologie
Dr. Gudrun Mernitz
Walther-Rathenau-Str. 49A
D-17489 Greifswald
 
Phone +49(0)3834 515304/or 515652
Fax +49(0)3834 864238
Email: gm@bcv.org

Location . Travel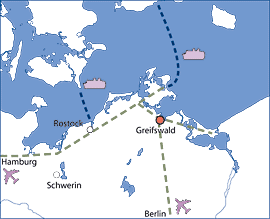 There are two airports reasonably close to Greifswald,
Hamburg
and Berlin.
The airport closest to Greifswald is Berlin Tegel. From here, a taxi or the busses X9 and TXL will take you directly to one of the main train stations, "Zoologischer Garten"("Zoo") or "Hauptbahnhof-Leerter Bahnhof" ("Hauptbahnhof") where trains leave for Greifswald. If you are unsure about the best connection, please check this link or contact us so we can help you with your planning.
When flying to Hamburg, the Airport Express bus will take you to the main train station ("Hauptbahnhof"). Departure times for trains may be checked under this link.
If you are driving a car from Berlin you need to take the freeway A11 to Stettin and then take the A20 to Greifswald.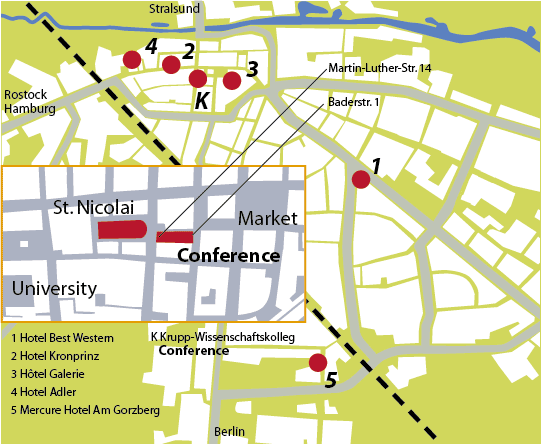 K Alfried-Krupp-Wissenschaftskolleg
    Visitors (Baderstr. 1)
    Auditorium (M.-Luther-Str. 14)
1 Hotel Best Western
2 Hotel Kronprinz
3 Hotel Galerie
4 Hotel Adler
5 Mercure Hotel Am Gorzberg

 
Further informations ›››